Considering a long-term investment in property?
Here's 5 things
to think about
The potential benefits of investing in property are hardly a secret. But for most people, the question is one of where to start, and what to know.
01 —
Generate passive income
It's really important to remember that not all properties make a good investment. Buying the right type of place in the right location is key. To generate significant passive income, smart investors buy well-located properties, the type that are in continuous demand from renters and are close to amenities such as schools, shopping centres
and transport hubs. Show us a tenant who doesn't like a new, modern, warm house they can call home.
Du Val's property sites, while they're not in central Auckland, are located in some of Auckland's highest growth areas and are close to key transport amenities.
The likely capital gains and positive growth trajectory for rental returns mean our homes are attractive to
property investors.
02 —
Create generational wealth
Investing in property to build generational wealth is a smart move. Done well, it's a highly effective way to diversify an existing portfolio, create passive income and leave a lasting legacy for future generations.
There are a lot of ways to make money, but creating intergenerational wealth is something different. While there is yet to be an investment entirely free from risk, compared to other types of investment, there are some real upsides to property investment. Aside from the instant gratification that comes from having a tangible asset, it can provide financial rewards through rental income and the growth in value of the property over time.
One of the real advantages of buying property is that lenders are willing to loan money using the property, existing or new, as security. Property is one of the only investments that can be leveraged, an advantage which is often overlooked. As the value of the property increases, the ability to leverage the equity created provides opportunity to buy the next property and so the investment cycle, and generational wealth creation, continues.
03 —
You can diversify your portfolio and
buy into a low-volatility market
Most investors know the importance of portfolio diversification, and property is a good way to achieve this and spread the risk. We all know property can be volatile in its own right, but compared to other investment options, it's generally regarded as less volatile which is why for many people, it can be a good investment choice. Especially if an investor is looking to build long-term wealth.
Without getting deep into the economics, while property doesn't completely eliminate the risk associated with investing it can help manage the risks which other types of investments are exposed to such as a rise in inflation.
04 —
Buying off-the plans delivers
more value for money
What many investors don't realise are the compelling benefits that come from buying a property off the plan before it's even built. To start with, the potential increase in the value of the property during the construction period, even though it's uncapitalised, can be life-changing. Our Rata Terraces development is a great example. We had some buyers experience capital gains of nearly $150,000 when they settled on their property.
Buying off the plan means you are not only purchasing a brand new, energy-efficient house, but loan-to-value ratios for new builds can be lower which means the initial deposit paid to secure the property can also be smaller. The other advantage is that investors generally only need to pay a 20% deposit when buying a brand new build versus the high 40% deposit which applies if you are a property investor purchasing an existing house.
Add to this, there are benefits that come from claiming interest payments on a new build.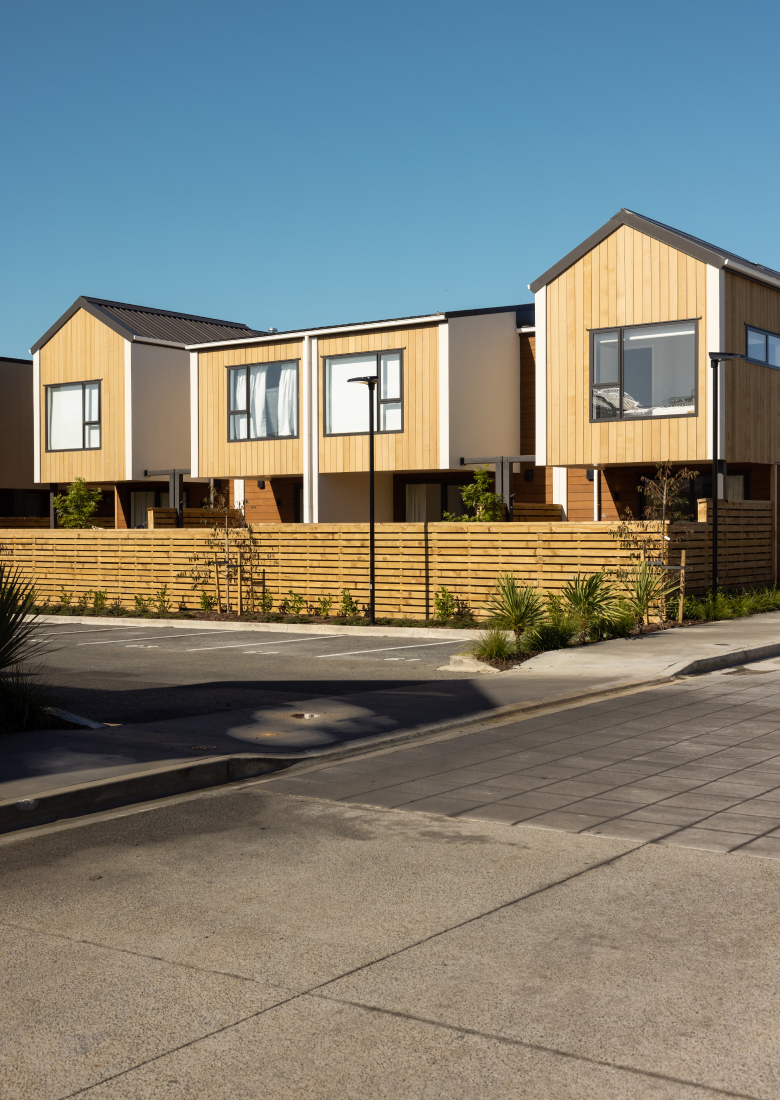 05 —
Now is the best time
A lot of people wrongly believe that investing in property is about timing the market, but it's actually time in the market that's more important. For many property investors, what's happening next year isn't a consideration, what really matters is what happens to the demand for property and rental prices over the long term.
Given property generally increases in value over time, it's logical that the longer you hold the property, the wealthier you are likely to become. So is now the right time? We'd say absolutely, the sooner you get into the market, the sooner you can reap the rewards and start building your wealth.