The Mountain Vista Estate project continues its progress, and we're excited to bring you the latest developments.
Stage 1: Progress is coming along on blocks 1 through 7.
The three-storey units on blocks 2, 4 and 6 are progressing well with the first-floor walls in place and are ready to receive the PLT's to level 2 floor. First-fix services are also underway on the
ground floors.
Two-storey units on blocks 3, 5 and 7 are being wrapped with building paper and windows are being installed, along with soffit and facia board in preparation for installation. Internally, these blocks are 90% complete with first-fix services, with the GIB board already delivered and ready for installation. Externally, the remaining footpaths and bin bays have been concreted.
Stage 2: Blocks 8, 9, 10, 11, and 12 are under construction. The ground floor PLT's have been installed on blocks 9, 10, and 11, and steel stud framing is in place for all ground floor walls on blocks 9 and 10. Scaffolding is now in place around these blocks to provide access for the installation of the first floor PLT's. Block 8 has had its bearers and support framework installed and is ready for the PLT installation on the ground floor. Block 12 will follow block 8 in the PLT installation process.
Stage 3: Blocks 13 through to 22 are under construction. Main services trenching is complete throughout this area and all open service areas are backfilled. Building platforms have been levelled and established for blocks 15 through to 22. Under slab services have been installed in blocks 16 and 18, and work on the roading and carpark bays is ongoing.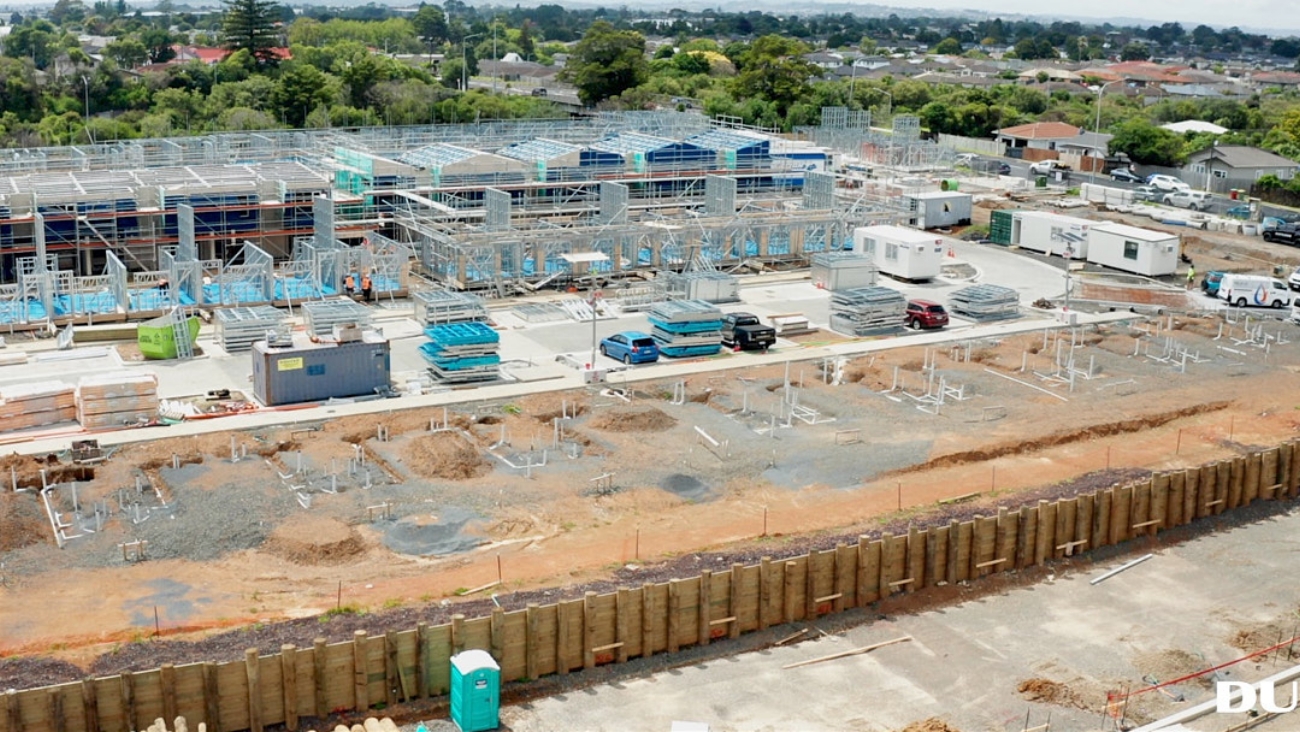 Stage 3: Block 23 Apartment building is under construction. All foundations have been excavated and the perimeter formwork is almost complete. Foundation reinforcement is also underway. Basement to ground floor structural steel has now been delivered to site.